Keep Wood-Destroying Termites Out Of Your Southern California Home
Termites are unseen pests that cause significant damage to homes all across the country; here in Southern California, termites are an ever-present threat that you do not want in your home or business. Termites eat away at the wooden structures within a building, generating costly damage, sometimes to the point of making the building structurally unsound. If you suspect termites are in your home or business, the Southern California termite control experts at Bull's Eye Pest Control can help!
Our Termite Control Process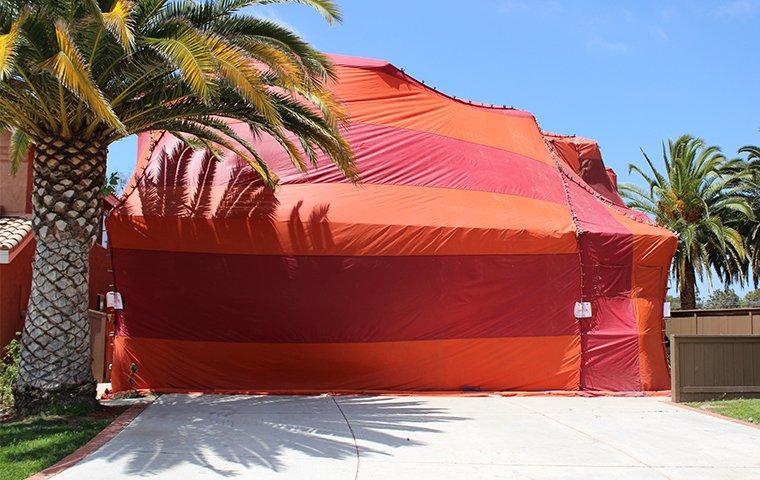 Inspections
Termite inspections are a crucial first step in identifying whether you have an active termite infestation or not. Bull's Eye Pest Control offers complete or limited inspections. A complete inspection includes a thorough examination of both interior and exterior areas, including all structures connected to the main structure. Our limited inspections target specific areas of concern.
Treatments
We provide full home fumigation for the best possible drywood termite control. This ensures that all termite colonies within the structure are eliminated. Our fumigation services come with a 2 year warranty. In some cases drywood termites can be controlled with a localized treatment. We inject a non-repellent material into termite galleries which the termites readily share with one another and create a domino effect. Localized treatments enable you to stay in the home while services are performed. These treatments are warrantied for 12 months.

We also provide Wood-Destroying Insect/Organism Reports for real estate transactions, refinancing, and personal use.
Follow-Up
Our chemical and foam treatments come with a one-year warranty. Our fumigation treatment comes with a two-year warranty. If you have concerns during this time, contact us, and we will return to perform a free inspection.
Termite Protection For Your Home Starts With Bull's Eye Pest Control
Protecting your Murrieta property from termites requires professional pest control services. At Bull's Eye Pest Control, our service technicians are highly trained and knowledgeable in our termite treatment options and the circumstances in which to use each one. If you suspect termites are in your business or home, request termite control services today!
Put Us To Work For You
Complete the form below to schedule your no obligation inspection.