Why Mosquitoes Are Threatening Murrieta Homes
Mosquitoes might only be active during certain parts of the year, but these insects are still the most threatening pests to inhabit Murrieta backyards. Spreading diseases, parasites, and countless itchy bites, never underestimate the dangers mosquitoes can bring to any environment.
If your home or business is experiencing an uptick in mosquito activity, there's only one business to call – Bull's Eye Pest Control. We've spent more than 20 years refining our craft of mosquito control, delivering hundreds of Murrieta homes and businesses from overpopulation and beyond. Using a variety of products and approaches, our professional pest experts can quickly remove infestations to any degree or capacity.
Get in touch with Bull's Eye Pest Control today to discuss potential Murrieta pest control treatment options or schedule a treatment online as soon as possible. We're looking forward to learning more about how we can help you thrive.
Mosquito Control From Bull's Eye Pest Control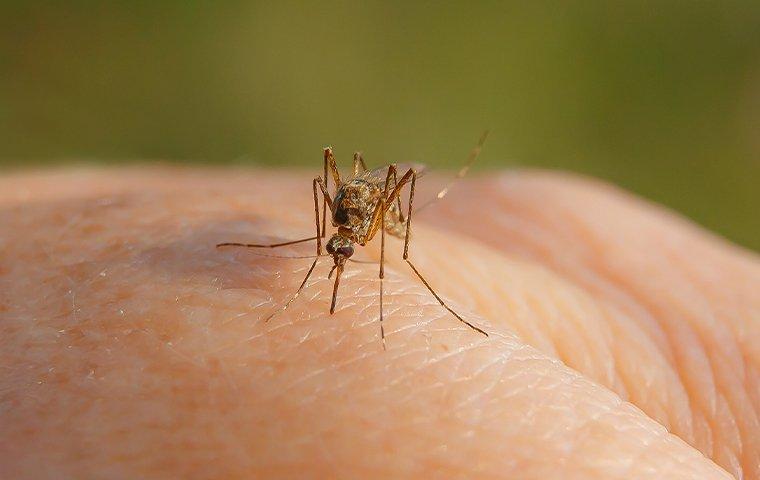 At Bull's Eye Pest Control, we understand how threatening the presence of mosquitoes can be around your Oceanside home. To not waste time, our professionals begin the mosquito application and treatment process immediately – no inspections required.
Our technicians use a variety of treatments to get the job done right using a variety of methods. Our backpack misters, in particular, will include an insect growth regulator that better manages mosquito growth and inhibits the current population's ability to spread and thrive, slowing the breeding cycle in your area by a significant margin.
Home and business owners in Oceanside are welcome to access our mosquito control services during their most active periods, from April to September. We offer:
Monthly recurring mosquito services.
One-time services for special events or holidays, including family reunions, Labor Day parties, or weddings.
Treatments for customer preferences, particularly when mosquito populations grow out of control (or when remedial control is needed).
Once our technicians arrive at your home, they will immediately begin the process of treating areas near standing water, shrubs, turf, bushes, and trees. Since mosquitoes spend most of their time in these habitats, our technicians will quickly apply products to areas nearest your home or business. Should you have other conducive conditions to point out, our experts will be happy to apply additional treatments.
Please note that not every home is a good candidate for mosquito treatments from Bull's Eye Pest Control. Certain environments may not supply enough turf to treat, while others reside in sensitive habitats. To evaluate your property and determine your mosquito control candidacy, please contact Bull's Eye Pest Control at your earliest convenience. We will conduct our research remotely via Google before preparing a quote for your residential or commercial property.
Other Ways To Prevent Mosquito Infestations
Mosquito control services are an excellent method of defending your Murrieta home from long-term mosquito activity. However, prevention steps will be necessary to maintain the product barrier over time.
Here's how you can prevent mosquito infestations from taking over your property with scientifically proven mitigation techniques:
Cleanliness: To reduce potential breeding grounds, clean all rain gutters, dispose of standing water, and change pet water bowls daily.
Protection: Keep pools and spas covered when not in use, seal garbage cans tightly, and maintain screens on all doors and windows.
Repellent: Wear long-sleeved clothing in areas with a high mosquito population, and tuck your pants into your socks for added protection.
Keep in mind that not all prevention techniques are enough to keep mosquito populations at bay. Professional mosquito control is a must if you live in an at-risk area or if your home is near attractant factors.
Get in touch with Bull's Eye Pest Control today to discuss professional mosquito control treatments in Murrieta. We will be happy to supply first-time or remedial treatments at your convenience.
Call Bull's Eye Pest Control For A Quote
For more information about our mosquito control services in Murrieta or to schedule an appointment for your business or home, contact Bull's Eye Pest Control today. Our team of experts will be happy to remotely evaluate your property and create a customized treatment plan that meets your needs.
Call us directly or submit an online contact form to schedule an appointment to learn more about our world-class mosquito control services. We'd be happy to put your bugs on the run – guaranteed!
Put Us To Work For You
Complete the form below to schedule your no obligation inspection.