Professional Pest Solutions For Moreno Valley CA Residents
Incorporated in 1984 by joining the three valley communities of Edgemont, Sunnymead, and Moreno, Moreno Valley is a growing city near San Bernardino, California. With a city motto of "People, Pride, Progress," we continue to flourish as a residential community and in business development. If you are looking for a great place to live or start your business, you won't do better than Moreno Valley.
With our hot, dry summers and mild, moister winters, pests are a problem in Moreno Valley year-round. Owning property in our community requires you to put preventative pest control measures in place if you want to avoid an infestation and all of the problems that go along with it. Bull's Eye Pest Control is a local, independently-owned company that provides pest control in Riverside County. Our goal is to get to you as quickly as possible so that you receive the pest control you need in a timely manner without us rushing through our service.
Residential Pest Control In Moreno Valley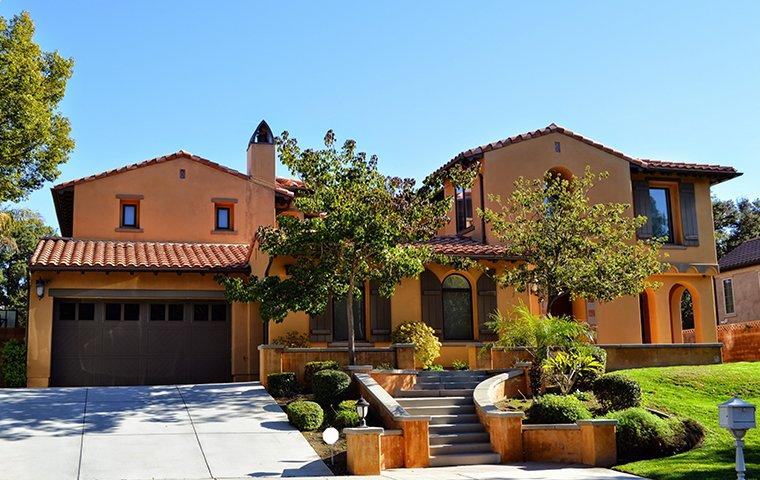 There are a lot of pests in Moreno Valley that can get into your home. Ants, spiders, scorpions, and many other critters may get inside looking for food and water or as a way to escape the weather. If they decide to stay, you'll soon find yourself dealing with an infestation that is not easy to eliminate.
Pest control for your home is necessary in Moreno Valley, both for getting rid of active pests and avoiding pest problems before they start. Bull's Eye Pest Control provides the services you need to accomplish both tasks. Our full-service treatments provide coverage in all areas that pests may use as entry points and harborage areas. We then provide follow-up treatments on a recurring basis to maintain a protective barrier around your home. To eliminate and prevent pests, Bull's Eye Pest Control is the company to call.
If your Moreno Valley business experiences a pest infestation, you will quickly discover the havoc that even the tiniest pests can wreak on your business. From a sudden influx of negative reviews online to serious property damage, pests are bad for business. Putting preventative pest control measures in place prior to a pest infestation is an investment that is well worth the money.
Pest control services for commercial properties will keep your Moreno Valley business pest-free, saving you money and frustration in the long run. Even if pests have already found their way inside your structure, it's not too late to take care of it quickly. Bull's Eye Pest Control provides both preventative and curative pest control services to Moreno Valley commercial properties. Designed around your business's specific pest control needs, we'll customize a pest control plan to protect your property.
Easy Tricks To Keep Ants Out Of Your Moreno Valley Home
Ants are one of the most common pests in Moreno Valley. Anytime you step outside, all you have to do is look at the ground to see some, but in most cases, when ants stay outdoors, they're not a problem. It's when they get into your house they become a serious issue. Although many ants are just a nuisance, all species can contaminate your food, so avoiding an infestation is the best-case scenario.
Knowing a few easy tricks to keep ants out of your Moreno Valley home can help you stop an ant infestation before it begins.
Don't leave food out in the open.
Clean off your counters and wash your dishes after each meal.
Clean your cupboards and pantry shelves routinely to make sure nothing spilled on them.
Sweep or vacuum your floors regularly.
Reduce moisture in your house and make sure you don't have any leaking pipes.
Seal entry points into your home that ants could use to get inside.
Even when you do your best to follow the tips outlined above, ants can still sometimes find their way inside. If you end up with ants in your house, you need ant control solutions from Bull's Eye Pest Control. Our ant control services take care of your ant problem in its entirety, so you don't have to deal with the annoyance of an ant infestation anymore.
Here's Why Do-It-Yourself Rodent Control Fails In Moreno Valley Homes
When you find a rodent in your house, you'll likely want to take immediate action to get rid of it. Maybe you'll set out some traps or bring home a cat. Unfortunately, even if you catch the rodent you found, there's a good chance other rodents are still somewhere in your house. The problem with DIY rodent control is that it rarely works to eliminate the entire rodent infestation.
In order to fully rid your home of rodents, you must know rodent habits and behaviors, as well as experience in the most effective rodent control methods. For most homeowners, these skills are simply not something they've had the time or inclination to develop. Luckily, with Bull's Eye Pest Control, you don't need to have those skills because we have them for you. To get rid of rodents in your Moreno Valley home, Bull's Eye Pest Control knows what to do. We offer the experienced services you need to get every last rodent out of your house and make sure they can't return. For rodent control that works, contact Bull's Eye Pest Control.
Put Us To Work For You
Complete the form below to schedule your no obligation inspection.