Effective Pest Control In Menifee, CA
Menifee is a sparse city that feels more like a suburb in many ways. It's got winding neighborhood developments, access to an extensive bike path, and nearly every big box store that residents could need. But even quiet communities like Menifee see their share of pest problems, and when they do, there's only one team to call.
At Bull's Eye Pest Control, we provide effective pest control in Menifee that never misses the mark. We are a locally owned company with more than 20 years in business. Our technicians are expertly trained and always courteous. When you partner with us, we'll always take the time to do the job right. And with recurring and one-time services, we're able to meet your needs whatever they may be. To book your no-obligation inspection, please call us today.
Residential Pest Control In Menifee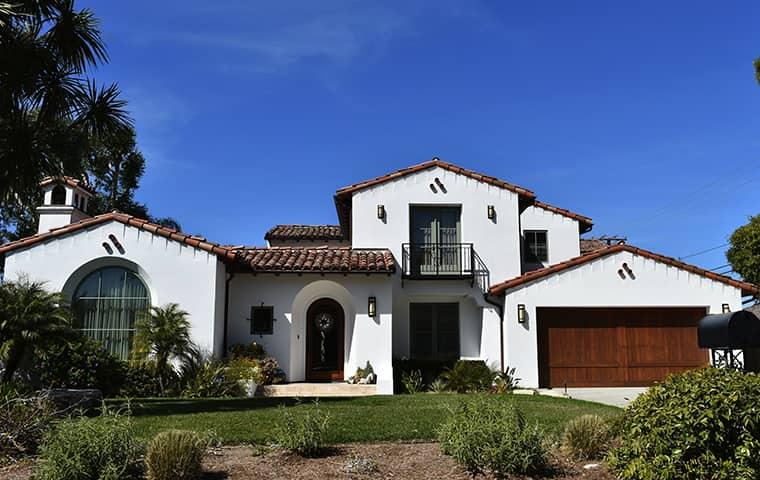 Keeping pests out of your home can be a challenge, and one that you're not equipped to deal with alone. At Bull's Eye Pest Control, we have more than 20 years of experience providing pest control in Menifee to homeowners just like you. Each of the technicians that you'll work with is detail-oriented, highly qualified, and dedicated to solving your pest problems.
Our standard bi-monthly general pest control program treats both the interior and exterior of your home for an array of pests like cockroaches, ants, spiders, centipedes, and more. We even treat up to 30 yards from your home! We offer the option of one-time visits as well as recurring plans in order to address your concerns the way you desire. And in addition to our general pest services, we can target mosquitoes, termites, crickets, and earwigs. To learn more about our residential pest control services in Menifee, please call us today.
Commercial Pest Control In Menifee
At Bull's Eye Pest Control, we want to help you find lasting relief from infestations with pest control in Menifee. Our company comes to you with more than 20 years of pest experience, and because we're a locally owned company, no one will do more for you than we will. We offer a broad range of services and we customize the specifics of your treatments to your needs.
Because our work is guided by attention to detail, we'll always begin by performing an in-depth property inspection. We provide high-quality, discreet services that we're able to apply without interrupting your day or drawing unwanted attention. Given our background, we're able to work with businesses from warehouses and offices to stores and restaurants. To learn more about our Menifee commercial pest control process, please call us today.
Menifee's Handy Guide To Effective Cockroach Control
Menifee properties can experience disturbing cockroach problems throughout the year that leave people exposed to some serious health hazards. These pests can be very difficult to eliminate depending on infestation size and location.
Here are a few handy tips to reduce cockroach attraction in the first place:
Be meticulous about food in all of its forms. Cockroaches will eat almost anything that people unknowingly give them, so diligence is key. Clean up food bits after meal prep, disinfect food residue, store all food in sealed containers, take out trash frequently, and never store snacks in their original packaging.
Fix leaks. Cockroaches cannot live long without water, which is also a factor that's seriously responsible for their attraction. To keep them away, keep drains working properly and shut off all faucets after using them to avoid drips.
Seal up entry points. Don't give cockroaches the opportunity to get inside; fill crevices with caulk and insert door sweeps where they're needed.
Hire a pro. The most reliable way to keep away the cockroaches in Menifee is with year-round protection from a pest expert. Consider contacting one today!
To learn more about professional cockroach control, call Bull's Eye Pest Control today.
How Can I Tell If My Menifee Home Is At Risk For Termites?
Each year, termites are responsible for inflicting damage on nearly 600,000 homes across the United States, and your Menifee home is no different. Termites are pests that seek out wood to eat and ideal places to build their colonies. In some cases, simply by existing, your home is at risk for a termite problem. There are other factors that can make your property more appealing, which include unaddressed water damage, the use of lots of mulch near your foundation, placing firewood too close to your home, having an untreated deck or porch, and having any wood that's in bad condition.
If you want to know without a doubt how susceptible your home is to termite damage in Menifee, you're going to need professional help. Part of the services that we offer at Bull's Eye Pest Control include inspections for termites so that we can determine the level of risk that your home has. If we see the need to move into action, we'll propose a treatment plan. Otherwise, we can continue to professionally monitor your property to keep it safe. For more information on termite control in Menifee, call us today.
Put Us To Work For You
Complete the form below to schedule your no obligation inspection.