Reliable Pest Solutions For Fontana, CA Residents
Located at the base of the San Bernardino Mountains, Fontana is a beautiful place to live and work. Our city provides many recreational activities and sporting events for residents and visitors to take part in and enjoy. As a regional hub of the trucking industry, our city also offers a bustling center for businesses of all kinds.
Taking advantage of all Fontana has to offer is best done by living and working here. If you own property in Fontana, you'll take the necessary precautions to protect it from anything that might harm it. While security systems work against break-ins, you must take different measures to prevent a break-in of another kind. When pests get into your home or business, they can wreak just as much havoc as a robber but can usually take their time before being caught. Before that happens, you need pest control in Fontana that will protect your property. Bull's Eye Pest Control offers the service you need to keep your home or business pest-free. As a local, independent business, we have more trucks in our service areas than any other pest control company, which allows us to get to you quickly to deliver the pest control you need.
Residential Pest Control In Fontana, CA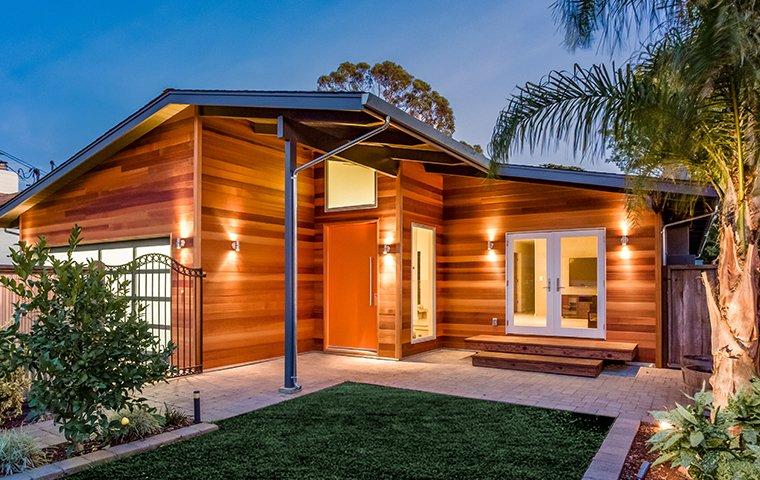 Keeping pests out of your house isn't something you dream about when buying a new home, but it probably should be. Whether you've just purchased your Fontana house or have lived in it for years, protecting it from pests with ongoing pest control is a wise investment. Pests will damage your structure and belongings, cause stress for your family, and can even make you sick.
Getting pest control for your home isn't something you have to wait to do until pests come inside your house. In fact, preventative home pest control is a great way to save yourself the headaches that go along with dealing with a pest infestation already in progress. Regardless of the presence or absence of pests in your house, Bull's Eye Pest Control offers residential pest control services to keep your house pest-free. Our service is thorough and protects your home from all the most common pests in our area.
Commercial Pest Control In Fontana, CA
Quality commercial pest control shouldn't be hard to come by. You shouldn't have to sign up for pest control services your business doesn't need or take out a loan just to pay your pest control bill. With Bull's Eye Pest Control, you don't have to do either of those things.
Our commercial pest control services will meet your business's specific pest control needs. Whether your business is dealing with a rodent infestation, has roaches in the kitchen, or needs to keep ants out of the bathrooms, we can take care of it. We'll identify your pest control issues and eliminate them while also delivering the preventative treatments that will protect your business in the months to come.
How To Tell If Your Fontana Property Has Termites
Finding termites in your home may sound like something you don't have to worry about, but the truth is that termites are a problem all over California, including right here in Fontana. They thrive in our climate, and because they don't typically come out in the open, they often get into homes without being noticed by homeowners. Unfortunately, this allows them to go about their work of literally eating your house while you remain none the wiser.
Knowing how to tell if termites are in your Fontana home is essential because it can help you identify an infestation as early into the infestation as possible. If a termite infestation is allowed to go unchecked for months or years, it can get so bad that your house may become unlivable. Instead of allowing that to happen, start looking for the following signs that might indicate that termites are on your property.
Look for mud tubes on your foundation walls. Termites use these to move from place to place without having to expose themselves to the sun and air.

Check wooden structures on your property that touch the soil. If there are ridges or mazes in the wood, termites may be present.

Knock on exposed wood to hear if it makes a hollow sound.

Look at exposed wood to see if there are any small holes in the wood or piles of a sawdust-like material below the wood.

Look around your house for sagging ceilings, bulging walls, buckling floors, or sticky doors or windows.
If you notice any of these signs around your Fontana home, contact Bull's Eye Pest Control right away. We will inspect your home to see if termites are present, then provide you with the services you need to eliminate the problem and protect your home from future infestations.
What Everyone In Fontana Should Know About Mosquitoes & Dangerous Diseases
Mosquitoes may be one of the most annoying pests around, but did you know that they're also one of the most dangerous? Diseases carried by mosquitoes are plentiful. Malaria is the most dangerous mosquito-borne disease, killing over one million people worldwide every year. Although malaria and many other mosquito-borne diseases are not a problem in the United States, mosquitoes transmit several diseases right here in Fontana. West Nile virus is the most common mosquito-borne disease in the United States. Other common ones are Dengue, chikungunya, and the St. Louis encephalitis virus.
Protecting yourself from these diseases requires you to protect yourself from mosquito bites since that is the way they are transmitted. To protect yourself from mosquito bites, you have to stay away from mosquitoes. Bull's Eye Pest Control offers our Fontana customers mosquito control services that will effectively reduce the number of mosquitoes on their properties so that you can protect yourself and your family from the harmful diseases they spread. Contact us to get started.
Put Us To Work For You
Complete the form below to schedule your no obligation inspection.